Worcestershire Record No. 28. April 2010
THE NEW UK DRAGONFLY ATLAS - PROGRESS IN WORCESTERSHIRE
Mike Averill
The second of a five year survey has been completed now in Worcestershire and the results are summarised in the attached map and spreadsheet. 2009 added 981 new records filling in some of the more remote parts of the county but there are still many gaps to fill. Amongst the 24 species recorded were some interesting records including Black Darter, Red-veined Darter and Small red-eyed Damselfly
The map shows the location of all records as well as the number of species recorded per 10 km square. Although some squares are well covered like SO 94, many 10 km squares have less than five species recorded and some squares, SO64, 65, 72, 82, SP03, SP14 and SP16 have no records at all and so perhaps recorders can visit these areas in the next two years.
Please send your records to mike.averill@blueyonder.co.uk and these should at least contain information about the location, date and species of dragonfly, but if you can give any estimate of numbers or breeding activity that would add a lot to the record. If you feel keen I can send a spreadsheet with a pick list of species already entered. Also available on request is a full sequence of species maps.
If you travel outside Worcs, don't forget it is a national atlas, all records are welcome and I am happy to receive them all.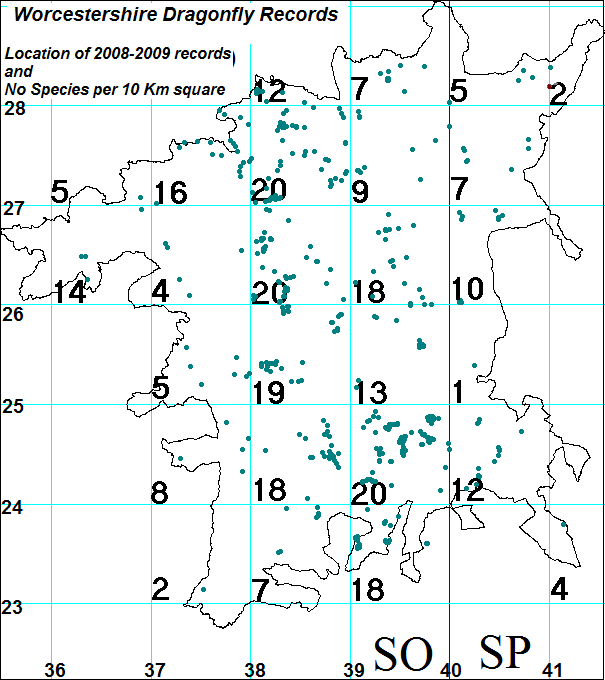 Table showing in which 10 km squares each dragonfly species occurred during 2008 - 2009
| | | | | | | | | | | | | | | | | | | | | | | | | | | | |
| --- | --- | --- | --- | --- | --- | --- | --- | --- | --- | --- | --- | --- | --- | --- | --- | --- | --- | --- | --- | --- | --- | --- | --- | --- | --- | --- | --- |
| | | | | | | | | | | | | | | | | | | | | SO | SP | | | | | | |
| | Tot | 66 | 67 | 73 | 74 | 75 | 76 | 77 | 83 | 84 | 85 | 86 | 87 | 88 | 93 | 94 | 95 | 96 | 97 | 98 | 4 | 5 | 6 | 7 | 8 | 13 | 18 |
| Beautiful Demoiselle | 11 | 1 | | | | | 1 | 1 | 1 | | 1 | 1 | 1 | | 1 | 1 | | 1 | | | | | | 1 | | | |
| Banded Demoiselle | 13 | | | | | | 1 | 1 | | 1 | 1 | 1 | 1 | 1 | 1 | 1 | 1 | 1 | | | 1 | | 1 | | | | |
| Emerald Damselfly | 6 | | | | | | | | | 1 | | 1 | 1 | | 1 | 1 | | 1 | | | | | | | | | |
| White-legged Damselfly | 9 | 1 | | | 1 | | | 1 | | | 1 | 1 | | | 1 | 1 | | 1 | | | 1 | | | | | | |
| Large Red Damselfly | 15 | 1 | | 1 | 1 | | | 1 | | 1 | 1 | 1 | 1 | | 1 | 1 | 1 | 1 | 1 | | | | 1 | | 1 | | |
| Blue-tailed Damselfly | 19 | 1 | | | 1 | 1 | | 1 | 1 | 1 | 1 | 1 | 1 | 1 | 1 | 1 | | 1 | 1 | 1 | 1 | | 1 | 1 | 1 | | |
| Common Blue Damselfly | 21 | 1 | 1 | | 1 | 1 | | 1 | 1 | 1 | 1 | 1 | 1 | 1 | 1 | 1 | 1 | 1 | 1 | 1 | 1 | | 1 | 1 | | 1 | |
| Azure Damselfly | 18 | 1 | | | 1 | | | 1 | | 1 | 1 | 1 | 1 | 1 | 1 | 1 | 1 | 1 | 1 | | 1 | | 1 | | 1 | 1 | 1 |
| Red-eyed Damselfly | 10 | 1 | | | | | | | | 1 | 1 | 1 | 1 | 1 | 1 | 1 | | 1 | | | | | | | | 1 | |
| Small Red-eyed Damselfly | 3 | | | | | | | | | | 1 | | 1 | | | 1 | | | | | | | | | | | |
| Common Club-tail | 8 | | | | | 1 | 1 | 1 | | | 1 | 1 | 1 | | | 1 | | | | | 1 | | | | | | |
| Brown Hawker | 16 | 1 | | | | | | 1 | | 1 | 1 | 1 | 1 | 1 | 1 | 1 | 1 | 1 | 1 | 1 | 1 | | 1 | 1 | | | |
| Southern Hawker | 21 | 1 | 1 | 1 | | 1 | | 1 | 1 | 1 | 1 | 1 | 1 | 1 | 1 | 1 | 1 | 1 | 1 | 1 | | 1 | 1 | 1 | 1 | | |
| Migrant Hawker | 13 | | 1 | | | | | 1 | | 1 | 1 | 1 | 1 | 1 | 1 | 1 | 1 | 1 | | 1 | 1 | | | | | | |
| Emperor Dragonfly | 17 | | | | 1 | | | 1 | 1 | 1 | 1 | 1 | 1 | 1 | 1 | 1 | 1 | 1 | 1 | 1 | | | 1 | 1 | | 1 | |
| Golden-ringed Dragonfly | 1 | | | | | | | 1 | | | | | | | | | | | | | | | | | | | |
| Broad-bodied Chaser | 14 | 1 | | | 1 | | | 1 | | 1 | 1 | 1 | 1 | | 1 | 1 | 1 | 1 | 1 | | 1 | | 1 | | | | |
| Scarce Chaser | 3 | | | | | | | | | 1 | | | | | 1 | 1 | | | | | | | | | | | |
| Four-spotted Chaser | 9 | 1 | | | | | | | | 1 | 1 | 1 | 1 | 1 | | | 1 | 1 | | | 1 | | | | | | |
| Black-tailed Skimmer | 13 | 1 | | | | | | | 1 | 1 | 1 | 1 | 1 | 1 | 1 | 1 | 1 | 1 | | | 1 | | 1 | | | | |
| Common Darter | 22 | 1 | 1 | | 1 | 1 | 1 | 1 | 1 | 1 | 1 | 1 | 1 | 1 | 1 | 1 | 1 | 1 | 1 | 1 | 1 | | | 1 | 1 | | 1 |
| Red-veined Darter | 1 | | | | | | | | | 1 | | | | | | | | | | | | | | | | | |
| Ruddy Darter | 11 | 1 | 1 | | | | | 1 | | 1 | 1 | 1 | 1 | | 1 | 1 | 1 | 1 | | | | | | | | | |
| Black Darter | 2 | | | | | | | | | | | 1 | 1 | | | | | | | | | | | | | | |
| | Tot | 14 | 5 | 2 | 8 | 5 | 4 | 16 | 7 | 18 | 19 | 20 | 20 | 12 | 18 | 20 | 13 | 18 | 9 | 7 | 12 | 1 | 10 | 7 | 5 | 4 | 2 |