Stigmella aceris (Frey) (Lepidoptera: Nepticulidae), a rapid spread in South Worcestershire
Tony Simpson
Stigmella aceris has been local and uncommon in the U.K. but locally known from the Ledbury area in Herefordshire and adjacent part of Gloucestershire since 1976. Robert Homan recorded it first in Worcestershire in 2004 just north of Tewksbury and I noticed this year that it has suddenly started to expand its range northwards on both sides of the River Severn (see map). Robert Homan tells me that it has also been spreading similarly in North Gloucestershire.
It is a small moth whose larva feeds as a leafminer in Field Maple Acer campestre and Norway Maple Acer platanoides, making a gallery mine initially filled with green frass (excrement) which makes it difficult to find until after the green larva has emerged from the mine to pupate. Then the frass turns brown making the vacated mine easily visible, especially in the yellowing autumnal leaves. Larvae feed in June/July and a usually more numerous generation in August/September.
It has now reached almost to Leigh Sinton on the west side of the Severn and to just south of Worcester on the east side, but not east of the Droitwich to Pershore road, and has reached Worcestershire near Broadway, but I could not find it in the Evesham 10km. square (SP04) this autumn. This is despite the last cold winter, and it will be interesting to see if it continues it northwards spread next year.
Caption for map
Reference
Homan, R. 2007 The distribution of two "new" micro-moths in Worcestershire. Worcestershire Record. 20:16-18. http://wbrc.org.uk/WORCRECD/Issue%2020/distribution_of_2_micromoths.htm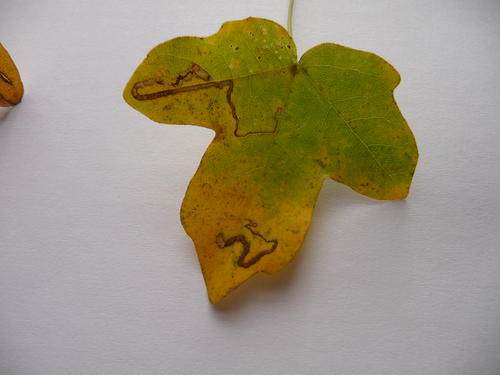 Stigmella aceris in Field Maple leaf, November 2010, Little Comberton. Picture ©G H Green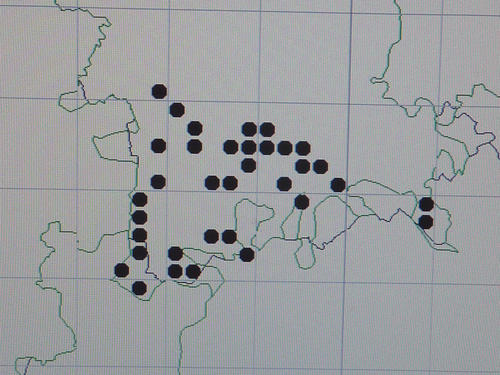 Stigmella aceris distribution October 2010 in South Worcestershire. Compare to the map published by Homan (2007) which shows a distribution along the border between SW Worcestershire & N Gloucestershire & just E of Tewksbury