Birds in Worcestershire - May to October 2000
By Gavin Peplow
This year will be well remembered as being poor weatherwise with only a few hot and dry spells through the summer before a very wet late autumn. In the birding world, no two years are the same and this year has again thrown up a good number of surprises, particularly towards the end of the period.
Early May produced an exceptionally varied wader passage with it being possible to find 16 species of wader in a day in the south of the County. The highlights included a Temminck's Stint and Bar-tailed Godwit at Bredon's Hardwick, Curlew Sandpiper, Turnstone and Grey Plover at Kinsham Pit and Spotted Redshank at the Gwen Finch Reserve at Nafford. Further Temminck's Stints followed a few days later at Ryall Pit and at Upton Warren whilst this last site also attracted a couple of Marsh Harriers and a typically elusive Golden Oriole mid-month. Black Tern passage was concentrated during the first ten days with the largest party being of 24 at Kinsham Pit. Five Little Gulls also passed through at this time. The month concluded with a superb breeding plumaged Slavonian Grebe at Westwood.
June, often rather a quiet month ornithologically, provided some notable highlights this year. These included a Spoonbill heading north over Wilden and a White Stork which drifted over the motorway at Bredon's Hardwick; though what was believed to be this bird was later found to be carrying a plastic ring and therefore considered to be of suspect origin! The overall highlight however, arrived at the end of the month in the form of a sub-adult Purple Heron at Upton Warren – the second record for the Reserve and for the County. Thankfully for those that missed it at Upton, it was refound at Oakley the following day and though rather elusive, it was enjoyed by a good number of people who patiently viewed the reedbed waiting for it to show. Other species recorded included the only Quail of the summer – heard one evening at Larford, Red Kites over Nafford, Redditch and near Droitwich, two Sanderling at Grimley and nine Black-tailed Godwits at Upton Warren.
Numbers of this last species peaked at 17 at Upton early in July whilst two Little Terns visited Bittell on single dates during the first and third weeks of the month. An Osprey lingered in the Grimley area for over a week, regularly visiting the Woodlands Fishery at Hadley where it was able to find a more than adequate supply of its preferred food!
Despite the mixed weather it was encouraging to see Common Terns successfully rearing young again at Upton Warren whilst a pair of Oystercatchers there produced three chicks. Elsewhere a pair of Shelduck bred at Bredon's Hardwick for the first time (only the second ever County breeding record for this species) and Pochard were also successful at the same site.

Oystercatcher
Wader passage gathered momentum at the end of the month with Knot and Curlew Sandpiper at Grimley and Little Stint and Turnstone at Upton Warren. A Little Egret also visited Kinsham and a Black-necked Grebe was found at Bittell at this time.
Rough weather at the beginning of August resulted in nine Shags dropping into Bittell one afternoon and a little later in the month the same site was visited by a Little Egret. Probably the same bird also appeared briefly at Upton Warren and one or more frequented the Kinsham – Bredon's Hardwick area. A Marsh Harrier was seen at this last site and one or two more were reported from Upton Warren whilst further Ospreys were seen over this last locality and at Lower Moor.
Parties of four Crossbills were seen at Kinsham and over Upton Warren whilst a count of 62 Corn Buntings at Wyre Piddle was notable. Towards the end of the month rough weather grounded 15 Curlew Sandpipers at Bittell and as the rain eased they quickly headed south, being seen flying through Upton Warren en route ! A Wryneck was a good find for a visiting birder in Broadway and as usual it was observed actively searching lawns for ants.
September began with a flourish when a juvenile White-winged Black Tern was seen briefly over the Gwen Finch Reserve before relocating to Bredon's Hardwick for a few hours. This was only the fourth record for the County. A further two Wrynecks were found, one near Droitwich and another which spent a week at Charlton. A trickle of waders included a further Little Stint and a Spotted Redshank at Upton Warren and a Knot at the Gwen Finch Reserve, whilst two Common Scoter at Lower Moor were the first of the year.
As the month drew to an end, eyes were cast skywards as news filtered through of a large influx of Honey Buzzards arriving on the East Coast. This was the result of an easterly airflow and a blocking depression sitting across central Europe, thus forcing young Scandinavian birds to head to the west rather than in their normal southerly direction. This eventually lead to an all time record influx of the species into Britain. Those birders able to spend time in the field were not disappointed; at least four birds were seen before the end of the month with one being tracked from the Lenches to Bredon Hill and then watched as it was joined by two other birds, all three then soaring over Westmancote for at least half an hour before continuing on their way! Partially as a result of this extra observation of the skies, Marsh Harriers were seen at Holt and moving south over the Lenches and Ospreys were seen at Bittell and over Abberton, whilst several Peregrines, Hobbys and numerous Common Buzzards were also recorded. Elsewhere one or two Ring Ouzels were found on the Malverns and a Black Redstart remained on the side of North Hill for a couple of weeks.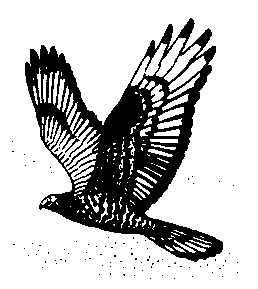 Honey Buzzard
October began with another Honey Buzzard over the Lenches followed by a bird that roosted overnight near Timberhonger and was then seen heading south-east the following morning. A couple of days later, following rain and low cloud a Great Skua was a completely unexpected find, located sitting in the middle of a ploughed field again just near Timberhonger, though it departed quickly once the mist started to lift. As the adrenalin continued to flow, a juvenile Red-backed Shrike was discovered near Throckmorton and within an hour of being found, fortunate birders watching this bird were again distracted as yet another juvenile Honey Buzzard drifted over heading south!
This purple patch continued with a Grey Phalarope visiting Westwood for a couple of days mid month whilst a Black Tern lingering at Upton Warren was decidedly late for the species. A Scaup also moved between these two sites at this time. Just as most people thought an amazing autumn's birding was returning to 'normality', the biggest avian surprise of the year and indeed of quite a few years, arrived at Westwood in the form of a female Surf Scoter ! What this almost exclusively coastal North American sea duck was doing in the heart of Worcestershire at this time remains a mystery but serves to illustrate what a fascinating and totally unpredictable hobby birdwatching can be !
Ensuring that the month didn't end in a whimper, a Pectoral Sandpiper spent two days at Grimley whilst several Rock Pipits were found. A Water Pipit was seen briefly at Kinsham, there were several more Ring Ouzels on Malvern and Bredon Hill and a Black Redstart lingered on the top of the latter. Finally, demonstrating as Buzzards before them, that they are still increasing significantly in numbers, a count of 22 Ravens was made around North Hill at the end of the month.
Records compiled from reports received by Birdline Midlands. Please phone through details of all your interesting sightings to the 24-hour Hotline on 01905-754154 (free on application to regular callers). For all the latest information on birds currently within Worcestershire and the Midlands Region, call 09068-700247 (calls charged at 60p per minute).