Wintering Chiffchaffs, Phylloscopus collybita, and its sub-species, At Worcestershire Sewage Works.
By Andy Warr
The last few years have seen a heightened interest in the identity of chiffchaff races visiting Britain in the winter months. For the second consecutive winter Worcestershire has been firmly placed on the ornithological map for its status in hosting eastern race chiffchaffs, with the race Phylloscopus collybita tristris, otherwise known at the Siberian Chiffchaff, creating much excitement throughout the birding fraternity.
Again (in winter 2000-2001) all three races were observed, with exceptional numbers of the northern nominate chiffchaffs, Ph. collybita collybita plus a good sprinkling of Ph. collybita abietinus, named Scandinavian Chiffchaff, and the much rarer Ph. collybita tristris Siberian Chiffchaff, as annual vagrants to our shores.
The recent phenomenon seems in part due to the increasingly mild winters, but their choice of habitat is dictated solely by a ready and consistent supply of food and shelter and some of our sewage farms fit all these requirements. The old-style rotary filtration pans attract an abundance of insect life throughout the year and although greatly reduced in the winter months, can still sustain a handful of birds, even during a hard frost period.
A surprise is, despite extensive searching for eastern chiffchaffs at sewage farms throughout the west midlands, all other counties have drawn a total blank. In fact the majority of records come from the south-western counties of England, where this trend has been around for some years.
Just four of the sixteen sewage farms explored in the county this winter held chiffchaffs, indicating not all are appropriate. A main factor appears to be their proximity to a main river course, with the additional benefits of a sheltered location. Filtration pans with a high brick wall surround or in close proximity to thick vegetation is also favourable. Conifers such as leylandi and dense hedgerow also provide considerable shelter and an ideal roosting site
By mid October Worcestershire summering chiffchaffs had departed for a warmer climate in southern Europe or Africa, but another couple of weeks saw the arrival of our first wintering nominate chiffchaffs from northern Britain and south-west Scandinavia. The sub-species abietinus arrived by mid November followed by tristris in mid December.
Three out of the four sewage farms recorded eastern race chiffchaffs: Kempsey and Upton-upon Severn, both along the Severn valley, plus Lower Moor in the Avon valley. The final location in Malvern held small numbers of chiffchaffs, but the races were undetermined.
Kempsey sewage works became the most popular destination for visiting bird watchers this winter, holding two tristris type, one of which was subsequently believed to show characteristics at sub-tristris intergrade after being trapped and ringed. Named fulvescens, this sub-race is better lumped with tristris rather than abietinus. Three abietinus and a dozen nominate chiffchaffs were also present. The Lower Moor site attracted one tristris, accompanied by three abietinus and at least four nominate. Finally one tristris, two abietinus, and a dozen nominate frequented Upton-upon-Severn.
The identification of eastern race chiffchaffs.
ssp tristris (Siberian chiffchaff). From the Ural area, Siberia.
Size similar to nominate, but can appear rather bull-necked. Overall pale looking, with brown-grey upper parts and white under parts, so looking sandy when compare with other races. Shows a prominent buff supercilium, dark eye-stripe, and rustic ear coverts and axillaries. Has a black alula and an indistinct eye ring. The nape becomes greyer as the winter progresses and olive-green tinges are present on the rump, back, scapulars plus edge of wing and tail feathers. The flanks are buff, legs and bill dark and often shows a pale wing bar.
Call is reminiscent of a bullfinch, a mournful straight or down-slurred call.
ssp abietinus (Scandinavian chiffchaff) From north and north-east Scandinavia.
Larger on average than nominate, with more greyish green upper parts, and whiter under parts, showing less yellow throughout. Ear coverts, sides of breast and flanks washed buff. Supercilium yellow-tinted and much less prominent behind eye. Shows a prominent eye-ring and often has a pale wing bar. Always looks darker and greyer than a pale sandy tristris type. Legs tend to be dark, but can on occasions be quite pale. Bill dark, with pale base to lower mandible. Call similar to nominate.
Sub-tristris intergrade, tristris x abietinus.
Tristris intergrades over a wide area with abietinus, producing birds of variable characteristics. Birds with any apparent tinged olive-green on the crown, nape or mantle plus yellow on eyelid, supercilium, sides of throat and breast should be referred to as a sub-tritris or tristris x abietinus.
The sub-tristris birds trapped at Kempsey showed a yellow tint on the upper eyelid and a few olive-green flecks to the crown and mantle, but these features were only visible with the bird in the hand, proving that extreme care is required when identifying true tristris
Site references
Kempsey Sewage Farm. Access via Old Road south, Kempsey, two miles south of Worcester. SO 847484
Upton-upon-Severn sewage farm. Access via public footpath half a mile west of Upton. SO 845405
Malvern sewage farm. Access via public footpath just east of Great Malvern. SO 800448
References
If you are unfamiliar with Chiffchaff subspecies and similar Phylloscopus warbler species try Cramp, S (ed) 1992 The Birds of the Western Palearctic, volume 6 for a start! (Ed).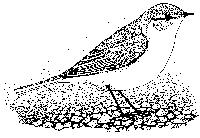 Ph. collybita tristris Siberian Chiffchaff drawn by Andy Web (click on image for enlargement)