Worcestershire Record No. 24 April 2008 p. 16
THE NATIONAL DRAGONFLY ATLAS PROJECT - 2008 TO 2013
Mike Averill
You may remember the first National Dragonfly Atlas which was published in 1996. This was a milestone in terms of national dragonfly mapping but it was badly out of date in terms of the records it contained by the time it was finally published. The British Dragonfly Society aims to update this atlas with five years of survey work culminating in a new Atlas in 2013.
A new national atlas is urgently required as climate change is contributing to increasingly earlier spring emergence and a change in the range of many of our species. In addition, new species are becoming established in Britain, as demonstrated by the recent rapid spread of the Small Red-eyed Damselfly. We are living through a dynamic change in our dragonfly fauna and need to record this information. This data will help with the assessment of the impact of climate change and other environmental factors on our dragonfly fauna.
In the first atlas 22 species were recorded in Worcestershire whereas there are 28 now, however since 1996 recording has been patchy, there have been repeated visits to the honey pot sites and the areas of recording are biased to where the main recorders go. An organised five year survey of Worcestershire will contribute to the production of a high quality national atlas and also provide a good baseline of information that can be used for the future benefit of dragonfly conservation.
Can you help with recording the dragonflies and damselflies in your local area or further afield?
Taking part
Below are some suggestions for taking part in this project.
Spread the word and let as many people know about the project as possible, site wardens, other wildlife groups and field meetings organisers.
Look at the dragonfly coverage in the attached map of Worcestershire and notice the gaps in coverage and the lack of recent records in most areas. Although of historic interest any record over ten years old may be of limited use in the current conservation of a site.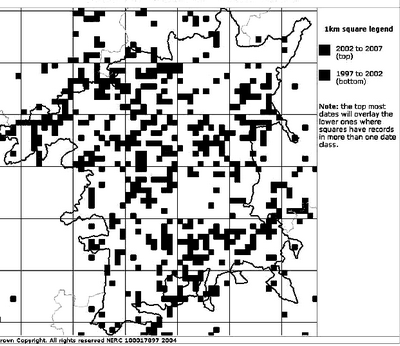 You can fill these gaps either by making a point of visiting the areas with gaps or by volunteering to cover certain OS squares.
Offer to help by taking on a 10x10 km square or tetrad or make a promise to visit areas not previously visited.
Send records to Mike Averill (miketaverill@aol.com) in any form that is convenient. This can be as simple as an email record for a site which must have as a minimum the date, location, grid reference, species and breeding stage if possible and of course the recorders name. If you feel keen send for a spreadsheet from the above e-mail address which will provide a ready to fill in form for all your records.
Any records you gather are important, even the common species so please make a note of anything you see.
Recording evidence of breeding greatly adds to the usefulness of the record (insert photos) please try to capture some other stage of a breeding cycle as well as just Adult such as: copulation; oviposition; egg-laying; larva; exuviae or pre flight emergent. These will be explained in the notes accompanying the spreadsheet.
| | |
| --- | --- |
| | |
| Migrant Hawkers - copulation | Brown Hawker - oviposition |
In future issues of Worcestershire Record there will be maps showing individual species coverage showing the records as they come in.
Recording starts soon at a pond or river near you, around the second week in April when the first dragonflies will be appearing.