Worcestershire Record No. 24 April 2008 p. 22
A MICRO MOTH NEW TO WORCESTERSHIRE PAMMENE TRAUNIANA (DENIS & SCHIFFERMULLER, 1775) (LEP: TORTRICIDAE)
Kevin McGee
I photographed a distinctive but rather worn little Tortrid moth which I disturbed along the edge of the main ride at Tiddesley Wood on 18th June 2007. Two days later on 20th June 2007 I photographed the same species on foliage of Field Maple Acer campestre L. alongside Mill Rough, Drakes Broughton. This specimen was also a little worn. I thought the species may be Pammene regiana, a common Tortrid associated with Acer species, but I couldn't be sure due to the faded colouration, so I asked the opinion of Dr.A.N.B.Simpson. He has confirmed that my photographs are of Pammene trauniana, a Red Data Book species with a national status of pRDB3. The larval food plant is Field Maple. These are the first records for Worcestershire.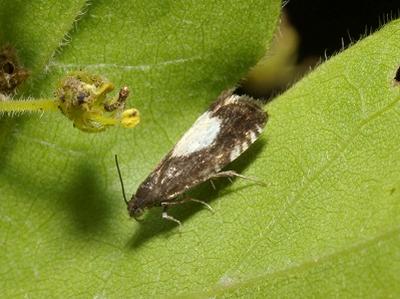 Pammene trauniana. (Photo', K.McGee).
A Google search led to several recent reports and pictues of P. trauniana from Somerset, Suffolk and Hampshire, but of particular note is a report of two from an old Field Maple in Herefordshire by Michael Harper in 2003.
Acknowledgements
With thanks to Dr.A.N.B.Simpson for his expertise.