Worcestershire Record No. 24 April 2008 p.19
THE KIDDERMINSTER SANDLANDS FUNGUS FLORA
John Bingham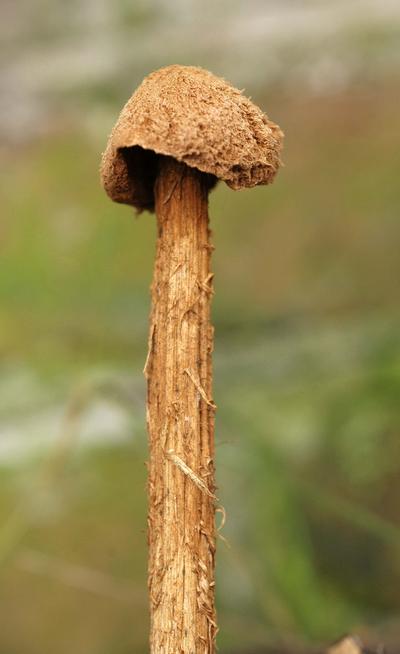 The Sandy Stilt Puffball Battarrea phalloides
© John Bingham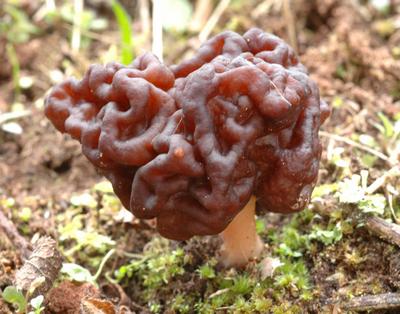 The False Morel or Brain Fungus Gyromitra esculenta
© John Bingham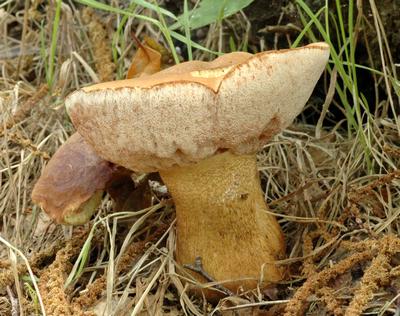 The Chestnut Bolete Gyroporus castanea
© John Bingham

The sandstone geology around Kidderminster is noted for its special habitats and species, especially the acid grasslands and heathlands and associated plants such as tower mustard Arabis glabra and hymenoptera like Dascypoda hirtipes and Andrena nigrospina (Worcestershire Record 23, p31)

Recently some unusual and rather special fungi have been recorded on the 'Kidderminster Sandlands'. The first was the sandy Stilt Puffball Battarrea phalloides, a Schedule 8 and national BAP species. This was a new county record for Worcestershire found by Cherry Greenway on 24th September 2006. The fungus is only known from four sites in Britain and only appears regularly in one hedge-bank in Suffolk. This is an amazing find, although there are other recent records from near Bridgnorth, Shropshire and in Gloucestershire, but the main area of distribution is east England. The fungus was growing amongst twiggy debris on bare sandy soil under a rather neglected and unremarkable hedge near Blackstone Rock, Bewdley. Often fungi appear only once in many years, so it was pleasing to see it reappear on 16th October 2008 when another specimen fruited, as shown in the image. Being so special this needs to be a protected site and perhaps a Local Biodiversity Action Plan drafted to enable its future protection.

The second unusual fungus the False Morel or Brain Fungus Gyromitra esculenta this was noted by Jane and Dave Scott growing on a sandstone bank in their garden at Astley Burf near Stourport. Jane mentioned this find to me at the Worcestershire Recorders meeting on 15th March 2008. I was invited to go and photograph the fungus on the 20th March, but since then another specimen has appeared. Jane and Dave have lived at Astley for about ten years so the fungus would probably not have gone unnoticed before, so this may be a once in 10-year fruiting. This is another new county record and there appears to be few other records for the Midlands. The species is typically found in Scotland growing near pines, but there are a few sites around the Hampshire - Surrey borders. Recently I have heard reports from Cherry Greenway of its appearance in the Forest of Dean! Note Gyromitra esculenta is a deadly poisonous species.

Other species that are generally restricted on the sandy soils include Tiger's Eye Coltricia perennis, a common species on the Kidderminster heathlands growing on soil especially amongst moss.

The rare bolete Gyporus cyanescens was reported by John Meiklejohn from Devil's Spittleful (Worcestershire Record No.11) on a WBRC recording day on 1st September 2001, a species of acid soil on heathland, especially with birch

The Chestnut Bolete, Gyroporus castanea associated with sweet chestnut (these trees are often planted on sandy soils) and oak. I recorded and photographed this on 24th July 2007, previously noted at two sites by Carleton Rea in the 1909 Botany of Worcestershire, this species has apparently not be recorded since then. The fungus is infrequently found in just a few sandy woodlands around Kidderminster.

This is just a selection of species; there must be many other Kidderminster Sandlands fungi to find.