Worcestershire Record No. 21 April 2007 p. 49
PEAR LEAF GALL CAUSED BY THE RUST FUNGUS GYMNOSPORANGIUM SABINAE
Harry Green
During late summer and autumn 2006 some pear trees leaves in Worcestershire produced a gall, quite abundant in places and apparently widespread. The upper surface of the leaf developed a prominent bright red blotch. Beneath this appeared a collection of fungoid excrescences described by Mike Bloxham as "volcanoes within distorted bulges on the underside of the leaves" illustrated in his drawing. When looking at these under a microscope I noticed that the volcanoes gave off clouds of brownish spores when poked so I concluded the gall was caused by a fungus. The description in the Gall Key (Redfern et al 2002) for galls on pear leaves (no drawing) didn't make much sense to me (and several others) so I showed specimens to Mike Bloxham who sent them on to Margaret Redfern who sent them to mycologist Brian Spooner at Kew! His response:
"Got your letter with Pyrus gall - and confirm that this is due to Gymnosporangium sabinae, aecidial stage on thickened leaf spots. Alternates with Juniperus sabina. It has become more frequent in the past few years, at least on Pyrus, occurring on various species, though not often seen on the junipers"
We thought we had a new record for Worcestershire but Rosemary Winnall saw the gall and my pictures and wrote:
"Further to our conversation regarding this gall on pear, Harry, I've attached one of my pictures from last year taken on 21st September 2005. It was identified for me by Bert Brand and I sent the record into the WBRC. (!)". So as far as we know Rosemary has the first record!
Serendipity then struck. I was driving one Saturday morning vaguely listening to garden expert Reg Moule on the radio. A listener was enquiring about the nature of the strange red blotches with lumps beneath that had appeared on her pear tree leaves and asked what to do about them. Reg immediately launched into a clear exposition of Pear leaf rust, pointed out that it was abundant this year whereas in the past it had been rare in Britain but well-known in Europe and elsewhere. What to do about it? Well, nothing! He also described the alternating generation of yellowish projections are formed on thickened twigs of a garden juniper Juniperus sabina originating from Asia. I had no idea what the juniper looked like so I did what everyone does nowadays – a web search! I was promptly swamped by information from all over the world illustrated by pictures, diagrams, the lot. What was new and rare to us was common (and sometimes a scourge) to others!
I now know that Juniperus sabina is an evergreen garden shrub sometimes called Buffalo Juniper which grows up to around 50cms in height and 2 metres across.
And on Pear leaf rust:
The disease is caused by the rust fungus Gymnosporangium sabinae (= G. fuscum), which requires two hosts, pear and juniper, to complete its life cycle. Spores produced from the fungal growths on pears are airborne and infect junipers; spores produced from the fungus-induced swellings on juniper stems are airborne up to 6km and then re-infect pears. The life cycles of Rust fungi are complex. A useful description is given by Spooner & Roberts (2005) in the recent New Naturalist volume on fungi.
Records for 2006.
Our first records were from pear trees planted near Tiddesley Wood and on both young and ancient pear trees in the wood. Following enquiries we received reports from Drakes Broughton, High Green, Brotheridge Green, Worcester, Droitwich and at the Worcestershire Wildlife Trust HQ Lower Smite Farm. It was probably widespread in Worcestershire in 2006 and we should be glad to receive confirmatory records. The gall is particularly obvious in October.
References
| | |
| --- | --- |
| | SPOONER B & ROBERTS P 2005 Fungi. Harper Collins New Naturalist Library number 96 |
| | REDFERN M, SHIRLEY P & BLOXHAM M. 2002 British plant galls: Identification of galls on plants and fungi. Field Studies 10:207-531. Also published by Field Studies Council as a separate book in the AIDGAP series of keys. |
| | |
| --- | --- |
| | |
| Pear tree leaf gall. Underside (above), top (below). Picture Rosemary Winnall | Pear tree leaf gall. Drawing Mike Bloxham |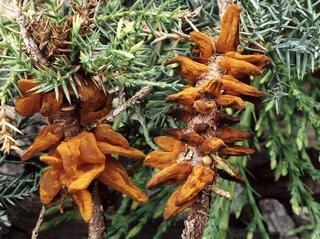 Gymnosporangium sabinae on Juniperus sabina twigs