Worcestershire Record No. 21 April 2007 p. 12
FLYING LAND CADDIS 2006
Mervyn Needham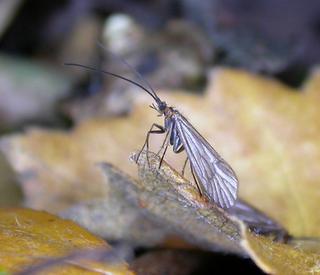 As a follow-up to last year's Land Caddis study in Chaddesley Wood with Ian Wallace from Liverpool Museum and others, it was thought that a regular check should be made to ascertain when adults were around and for approximately how long (see Green & Westwood 2005 for the background information)
I undertook to do this in Chaddesley Woods. Last year's meeting was on 10th October which seemed to be the optimum time. Therefore the search this year (2006) began at two sites, one in Chaddesley Wood and the other in nearby Coalpit Coppice which both had sightings last year.
My first visit on Wednesday 20th September proved negative – no flying males found. On this occasion I did collect some leaf mould and leaf litter in a square plastic bucket which I took home and covered with fine gauze and left in the shade slightly moistening on two occasions.
Visits continued each day until on 1st October the first male was found in Coalpit Coppice. One male was also found in the bucket at home. My next visit was on 5th October when three males were found in Coalpit Coppice but still none in Chaddesley Wood.
It was not until 9th October when the first male was found in Chaddesley Wood, together with three males in Coalpit Coppice. This was the day when most activity was observed, the males flying about two feet above the litter surface, not walking as previously observed. When they did settle or was on a leaf stalk or twig and their antennae seemed to be actively scenting the air, but no females (which are flightless) were found on any visit. Two possible insects were potted but on close examination turned out to be springtails!
On subsequent visits on 11th, 12th, and 15th October, none were found. If fact no more were found in Coalpit Coppice but on 22nd October one male was found in Chaddesley Wood.
I made one final search at both sites on 29th October but both were negative. It seems, therefore, that the adult stage of Land Caddis is quite short which is what we have been led to believe from research last year. We now have another eleven months to wait before I can begin to search again to confirm this year's findings. Watch this space!
NOTE from Harry Green.
Following on from our work on Land Caddis published in British Wildlife and the Wyre Forest Study Group Annual Review 2005 we have continued a low level search for new sites. We have added around twelve 1x1km squares to the distribution map. Most of these are within the known range, though we now have a new 'furthest south' on the west side of the Malvern Hills.
References:
| | |
| --- | --- |
| | GREEN GH & WESTWOOD B 2005 In search of the land caddis (part 2) Worcestershire Record No 19 pages 16-17. |
| | GREEN GH & WESTWOOD b 2005 In search of the land caddis British Wildlife Vol 17 no 1, pages 21-26. |
| | GREEN GH & WESTWOOD B 2005 The land or terrestrial caddis (Enoicyla pusilla) and Wyre Forest. Wyre Forest Study Group Annual Review 6:3-9. |