Worcestershire Record No. 20 April 2007 p. 6
WORCESTERSHIRE MAMMAL ATLAS
Harry Green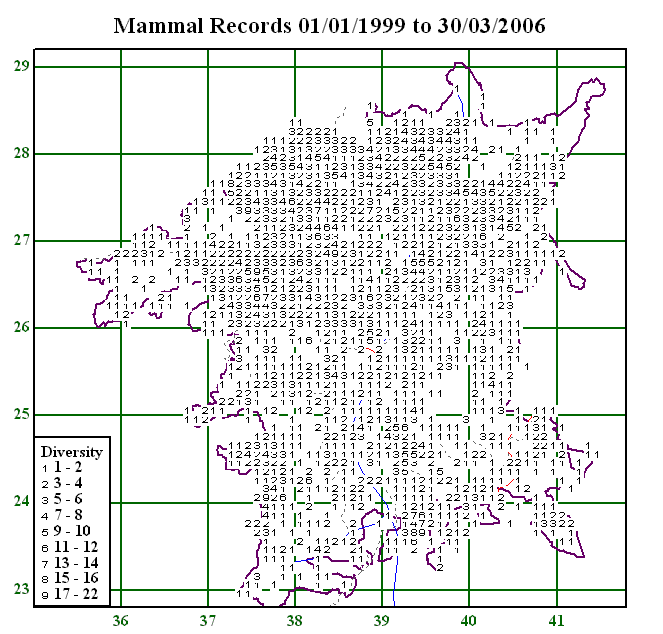 As we reported in the November 2005 Worcestershire Record 2006 is the last year for collecting records for this Atlas. The map shows all the records entered on the database by mid-March 2006 based on 1 km squares (monads). For many monads we only have records of one or two species and many others are still completely blank! WE NEED MORE RECORDS and we do urge all readers to send us a least a few records during 2006. Obviously we shall never obtain complete coverage especially for small mammals and bats but there are probably rabbits, moles and rats in every monad! Squashed rabbits are often seen on roads; mole hills are very obvious early in the year; nocturnal rats are strangely difficult to record. Interestingly there do seem to be areas which are mole free. These seem to be areas where there is no permanent grassland, narrow road verges and no woods.
Recently we have obtained more records of small mammals than might have been expected. We do commend John Dodgson's methods of examining discarded drinks cans (update in this Worcestershire Record). Owl pellets are also proving to be productive and we do urge you to send any you find to John Meiklejohn at the WBRC office clearly labelled with date of finding, accurate grid reference and your contact details. Pellets are providing interesting records, for instance two Pigmy Shrew skulls were found in barn owl pellets collected near Broadway recently.
If you are in woodlands this summer please look for old hazel nut shells showing mouse gnawings. It is possible to distinguish between those opened by dormice, wood mice and voles by the teeth marks. If you are not sure please send us a sample of shells for checking. It would be very helpful to have more information on dormouse distribution. At present we have no definite records east of the River Severn. Most records are from woods in west Worcestershire or Wyre Forest.
Records of house mice are still extremely scarce but one turned up in my own house last winter and met the fate of all mice which try to eat my house and contents … …