Worcestershire Record No. 20 April 2007 p. 3
A RARE BUG IN A TUSSOCK
John Partridge
Although most of my 'tussocking' is now producing predictable species, albeit from parts of the county where we have few records, there is still the occasional surprise to make the hunt more exciting. (For notes on 'tussocking' see Worcestershire Record No 18 April 2005 pages 25-27)
Recently I collected three specimens of Lasiosomus enervis (Notable) from a field near Kington, SO9955, not far from the new reserve at Humpy Meadow.
There was initially a problem with identification, confusing this species with the much commoner Stygnocoris sabulosus, especially as the size fell right on the boundary between the two, so that my poor quality scanned picture was not good enough for verification.
It also later became apparent that the (newer trial) key that I was using was not as good at separating these as the much older Southwood and Leston 1959 key.
I am indebted to Bernard Nau for trying to make sense of my initial picture, and being sufficiently interested to inspect the specimen, and supply the two pictures shown here. Although the reproduction is still not perfect, it should be sufficient to show the different degrees of puncturation.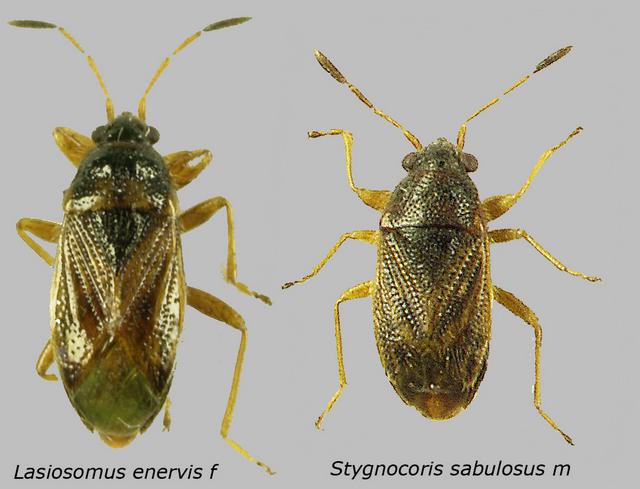 Notes selected from the species account in Recorder 2002
Distribution Southern England. Recorded from Suffolk, Kent, Sussex, Surrey, Berkshire, Bedfordshire, Oxfordshire, Hampshire (including the Isle of Wight), Dorset, and Devon. It is known from Ireland, and is otherwise chiefly a species of central and southern Europe.
Habitat and ecology The ecology of this species is rather obscure. Hibernating adults have been found in grass tussocks in December. It can be active quite early in the year, and there are several records for March and April. Mating has been observed in August and September. It is a seed-feeder, and would appear to be polyphagous. Seeds of self-heal Prunella vulgaris, black medick Medicago lupulina and grasses have been recorded as food.
Status Very local. The often small number of individuals recorded from a site, and the rather uncertain habitat requirements of the species, probably mean that it is under-recorded.
Reference:
| | |
| --- | --- |
| | SOUTHWOOD TRE & LESTON D, 1959. Land and Water Bugs of the British Isles Warne, London |