Worcestershire Record No. 19 November 2005 p. 4
SECOND RECORD OF RARE OIL BEETLE MELOE RUGOSUS Marsham 1802 NEAR ELMLEY CASTLE.
An occurrence at Netherton, near Pershore of this rare RDB3 oil beetle was reported in Worcestershire Record No 5 November 1998 by David Green. Interestingly a second specimen was found recently on 10th November 2005 about 100 metres from the first record site, again by the same finder ≠ Jake Poloni! On the second occasion the beetle was found in a dogís basket in an outside porch. How it got there is unknown. For more information on the beetle see David Greenís report.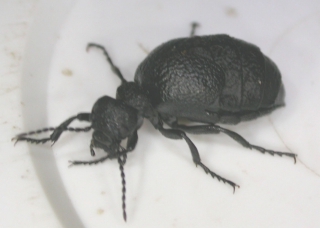 Oil beetle Meloe rugosus found at Netherton