Worcestershire Record No. 19 November 2005 pp. 20 - 21
CONCHOLOGICAL SOCIETY OF GREAT BRITAIN & IRELAND FIELD MEETING AT BREDON HILL, 1st OCTOBER 2005
Ron Boyce, Harry Green, Rosemary Hill & David Long
Despite a small turn-out those who came had an enjoyable day exploring the small woods and rough grasslands above Woollas Hall on Bredon Hill. We are most grateful to Mark Steele for permission to search for molluscs on his land. Most of the snails typical of calcareous pastures were found.
When appropriate S = shell, L = live animal. Fossils and sub-fossil records in square brackets.
Wet slump near top of field track SO953406
Trichia hispida L
Deroceras reticulatum L
Candidula intersecta S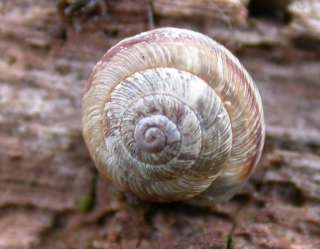 Candidula intersecta. Shell about 8 mm diam
Into alder wood SO954405 near old reservoir
Oxychilus helveticus L
Discus rotundatus L
Arion intermedius L
Arion distinctus L
Vitrea sp
Oxychilus alliarius L
Clausilia bidentata S
Near SO 953406 grassland with wet flushes and small pools
Aegopinella nitidula L
Arianta arbustorum L
Lehmannia marginata L
Tandonia budapestensis L
Cochlicopa lubricella L
Trichia hispida L
Potamopyrgus antipodarum L
Lymnaea truncatula L
Pisidium personatum L in pool
Carychium tridentatum L
Oxychilus cellarius L
Trichia striolata S
Deroceras reticulatum L
Vallonia excentrica on anthill
Candidula intersecta L
Wet flush
Pisidium casertanum
Lymnaea truncatula S
Carychium minimum L
Near wet flush at SO 956405
Cochlicopa lubrica L
Vitrea crystallina S
Cepaea nemoralis L
Clausilia bidentata L under old ash with fallen branches
Trichia hispida L
Cochlicopa lubricella L
Oxychilus alliarius L
Rough grassland with isolated large stones SO955405
Pupilla muscorum L
Candidula intersecta L
Cernuella virgata
Vallonia excentrica L
Vallonia costata L
Scree SO957404
Cepaea nemoralis L
Cernuella virgata L
Candidula intersecta L
Clausilia bidentata
SO 957404 Rough pasture
Cecilioides acicula S in disturbed soil
Discus rotundatus L
Ena obscura L
Arion ater agg L
Cepaea hortensis L
[fossil limpet]
Vitrea contracta L
Nesovitrea hammonis L
Pyramidula rupestris L
Pupilla muscorum L
Carychium tridentatum L
Cochlicopa lubricella L
Vallonia excentrica L
Vallonia costata L
Arion distinctus L
Lehmannia marginata L
Trichia striolata S
Cecilioides acicula.
Larger shell about 4 mm long
Pyramidula rupestris.
Shell about 3 mm diam.
In beech wood with fallen down wall SO 952398
Trichia striolata L
Arion distinctus L
Trichia hispida L
Cepaea nemoralis L
Deroceras reticulatum L
Oxychilus alliarius L
Aegopinella nitidula L
Candidula intersecta S
Limax maximus L
Clausilia bidentata L
Ena obscura L
Lehmannia marginata L
Oxychilus helveticus L
Vitrea contracta L
Vitrea crystallina L
Carychium tridentatum S
Aegopinella pura S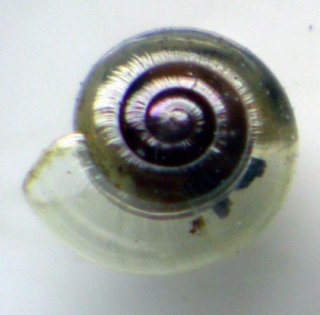 Vitrea crystallina
Shell about 3.5 mm diam.
SO954401 North-facing slope of longish rough grassland with slumps.
Helicella itala L. Many live ones. At least 50 on grassland lower down mostly associated with fallen dead inflorescences of Nodding Thistles. Unusually for this species very few dead shells found.
Helcella itala
Shell about 14 mm diam
SO 952398 - on slumps
Vallonia excentrica L
Vertigo pygmaea L
Arion distinctus L
Cochlicopa lubrica L
[Pomatias elegans fossil in exposed soil]
Trichia hispida L
Deroceras reticulatum L
Candidula intersecta S
SO 953400 - small stony hollow
Pupilla muscorum L
Vallonia excentrica L
[Pomatias elegans subfossil in exposed soil]
[Cochlicopa lubricella subfossil in exposed soil]
Vertigo pygmaea L
Cernuella virgata L
Helicella itala L on slope
[Vallonia excentrica subfossil in exposed soil]

SO953403streamline in deserted village site
Succinea putris L
Oxyloma pfeifferi L
Helix aspersa L in car park SO945410 Woollas Hall!

Vertigo pygmaea, showing the 'teeth' in
the operculum.
Shell about 2mm long