Worcestershire Record No. 17 November 2004 p. 11
OBSERVATIONS ON FEEDING REDWINGS AND FIELDFARES
John Robinson
Redwing
I erected a scaffolding hide some 16 feet in front of a patch of hawthorn in November 2004, in an attempt to photograph Redwings feeding on the berries. This is something I have been trying to do with varying degrees of enthusiasm for the past 35 years. I knew it would be a hit and miss affair due to the preponderance of berries of all types this year.
I had however noticed one or two birds feeding in this particular clump. They were extremely nervous. After several long sessions in the hide I was able at long last to secure some excellent pictures. I suspect that the same individual bird was involved and this is borne out by checking the head markings in detail.
The bird would alight in the bush, and take on average about 5 or 6 berries. It then, if not disturbed, would retreat into the centre of the bush and sit for some 10 – 20 minutes. During this time, it would regurgitate pips and defecate in the normal way about half a dozen times. It would then feed again and repeat the whole process in almost exactly the same every time. What was really interesting was the song. During the resting period the bird would continually utter the most beautiful warbling sub-song. Almost like that of the Blackcap which I have heard many times. The bird would tremble quite noticeably whilst doing this. I had heard something much louder from a huge flock of redwings going to roost recently. I am sure the song from this bird would not have been heard had I not been sitting in the confines of the hide at such a close distance.
I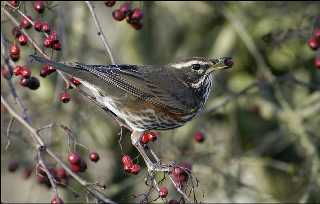 Figure 1. Redwing ©John Robinson
Fieldfare
About a week later on 28th November 2004 I photographed this Fieldfare from the bedroom window, and it behaved in exactly the same way as the redwing, including the sub-song which was not as loud or melodic as that of the redwing.. Interestingly though, the bird only sang whilst in the deep centre of the bush. It did not sing whilst between feeds on the outside of the bush.
| | |
| --- | --- |
| | Figures 2 & 3 Fieldfare © John Robinson |