Worcestershire Record No. 17 November 2004 p.13
BIRDS AND BUGS, JUNE TO SEPTEMBER 2004
Mark and Christine Turner
First of all, I would like to apologise for not labelling my illustration on page 7 of the April 2004 Worcestershire Record. It should be entitled Red Kite and not Buzzard. Who spotted it? Check the breast pattern and tail. (It's kind of Mark to take the blame – in fact it's the editors fault – I simply typed the wrong words in the caption. By way of apology the Kite is reprinted after this article)
Just as Bill Oddie and Kate Humble came live on our T.V. screen with their series, Britain Goes Wild, 20:00 hrs on 14th June 2004, our evening viewing was about to be interrupted. Christine pointed out strange goings-on at the bungalow opposite us.
The scene involved a Red-legged Partridge Alectoris rufa totally out of context with its surroundings and a bemused tail-less Woodpigeon Columba palumbus. The latter bird being a recognisable resident of our estate was sitting at the gable end of a neighbour's roof, up on the ridge. The Partridge was perched close by and was apparently serenading the Pigeon, belting out its strange chuckling and rasping song with neck out-stretched in a courtship display. (Picture by Christine Turner)
The Woodpigeon, which proved to be a male when it did things naturally, was clearly unmoved by the amorous alien, stuck it for ten minutes and then departed.
The handsome gamebird continued to sing despite being left alone in completely the wrong habitat: a modern housing estate. The poor frustrated Partridge must have been affected by the heat of the summer weather (we joked) as it flew off on whirring wings across the rooftops of residential Broadway at 20:26 hrs.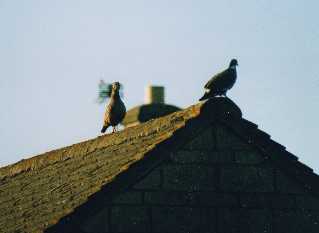 Figure 1 Rooftop red-legged partridge making improper advances on a pigeon! Photo Mark & Christine Turner
On a warm and sunny morning of 6th July 2004 I was rather surprised and amused to see a mother Red-leg leading her four tiny day-old, wild-raised chicks from a garden in Blockley across the road to a small village green. I was concerned that the small new family would now have to run the gauntlet with the village cats and dogs. As a Jack Russell snuffled around nearby, the mother Red-leg crouched low in the grass with the little ones.
As the native Grey Partridge becomes ever-harder to find in the North Cotswolds, the introduced alien seems to be increasing its range and population year-on-year. In the past I have purposely avoided making records of the species as it is so heavily reared and released by local Gamekeepers, but having said that, Red-legs are a beautiful and charismatic breed that will happily venture into gardens and prove popular with observers.
Following on from Roger Umpelby's article, page 24 and 25 of the Worcestershire Record April 2004, he may be interested to learn that we had an over-wintering Humming-bird hawk-moth in our garden shed on 7th January 2004. Sadly it died in the March.
Also, looking back through our nature notes we recalled finding a male Clouded Yellow on 27th August 2000 during a walk through fields between Ashton-under-Hill and Grafton. The butterfly was characteristically impossible to approach, but still the only one we've seen to date.
More recently, a sunny late morning walk on 22nd June 2004 produced a fresh batch of Five-spot burnet moths and many Ringlet butterflies on the wing. They all inhabited verges of tall grass and thistles etc. on Broadway farmland adjacent to the bypass. During late evening of 10th August 2004 we discovered a moth in our bedroom at Broadway which we caught and identified as being a Setaceous Hebrew character (Xestia c-nigrum).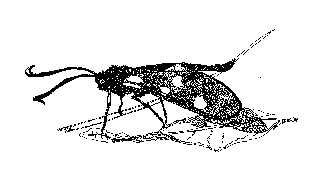 Figure 2. Five-spot burnet moth. Drawing © Mark Turner
On Thursday and Friday, 2nd and 3rd September 2004 during warm, sunny conditions, I was interested to note the comings and goings of Field digger wasps Mellinus arvensis carrying paralysed flies back to a storage bay of soft building sand in a Broadway builders' yard.
As local Swallow numbers diminished during September, autumn visitors were appearing on the scene. By the end of the third week there had been a fall of continental Song Thrushes in Broadway, some being present at the Gravel Pit Nature Reserve. These birds behave quite differently to our residents; they seem hyperactive by comparison and constantly chasing one another. I had witnessed individuals dropping in to local thickets from high in the sky.
By 28th September large flocks of Lapwings were appearing in local fields and the first Golden Plovers arrived on Westington Hill, Chipping Campden as a single species flock.
Sunny periods still showed there to be a number of butterflies still on the wing in Broadway, including Red Admiral, Small Tortoiseshell, Large White and the delightful Comma.
Another sunny period, around midday of 30th September brought me a rare find of a Red Underwing moth Catocala nupta fluttering about in the open and looking very confused indeed. I had been drawn to its large size and silvery looking forewings in the sunlight.
| | | |
| --- | --- | --- |
| | | |
| Figure 3. Comma Drawing © Mark Turner | This is a re-print of Mark Turner's drawing of a Red Kite published in Worcestershire Record No.16 last April and wrongly captioned by me! Apologies (Ed). | |