Worcestershire Record No. 16 April 2004 pp. 30-31
SNAKE FLY- RAPHIDIA XANTHOSTIGMA
Michael Southall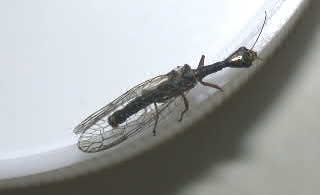 Snake fly Raphidia xanthostigma. Photo by Michael Southall
I first noticed a rather odd looking insect on the inside of my landing window on the 10th of May 2003. Rather like a flying ant, it had clear net-veined wings but a remarkable long neck, prothorax in insect speak. This was late at night following a thoroughly wet and cold evening, which had not helped my neighbour's garden party. As if to prove how easily overlooked these insects are, I did not find it again until three days later when I spotted it climbing my kitchen window.
An article written by Norman E Hickin in The Natural History of an English Forest, The Wild Life of Wyre, had stuck in my mind. He had written a short piece about Alder and Snake flies accompanied by two excellent drawings, which made me realize what I had missed. The whole book is fascinating with relevance far beyond the confines of Wyre Forest.
The Snake fly was quite easy to photograph, as it seemed to prefer walking to flying and occasionally stopped to pose for the camera. Even on release it walked away, although they are said to fly well during the day. While walking it occasionally lifted its head on its long neck, as if about to strike like a snake, showing the reason for its name. This example must have been a male, as the female has a long thin ovipositor. A photograph was e-mailed to Harry Green, and he and John Meiklejohn kindly confirmed its identity as Raphidia xanthostigma, the fourth WBRC database record. This is the smallest of the four British snakefly species, with a body barely 10mm long. There are a couple of records for R maculicollis, one for R notata, and one for R confinis. The separate species appear to show some preference to different tree species. With R notata oak-woodland living, R maculicollis and R confinis associated with conifers and R xanthostigma linked to willows although it does occur on other trees.
The adults are thought to live at the top of trees and are rarely recorded for this reason. They emerge from early May. They live on small insects, especially aphids, and possibly some pollen. The larvae are predacious, living under bark and decaying wood and feeding on beetle larvae etc. It is thought that they need a period of low temperature (probably around 0ºC) to induce pupation or the hatching of the adult. There are estimated to be around 260 species living, confined to the Northern hemisphere. Several species have been identified from Baltic amber showing an ancient past.
To find these insects, an Essex naturalist claims reasonable success by standing on deer-platforms amongst trees and beating the higher branches, or alternatively, sweep-netting woodland-edge vegetation after very strong winds. Apart from knowing what you are looking for, I can recommend helping with the washing up, and keeping an eye on the windows!
References:
| | |
| --- | --- |
| | FRASER, FC 1959. Mecoptera, Megaloptera, Neuroptera. Handbooks for the Identification of British Insects Vol 1 parts 12 & 13. Royal Entomological Society of London. |
| | HICKIN NORMAN E 1971 The Natural History of an English Forest. Hutchinson |
| | PLANT, COLIN W 1997 A key to the adults of British Lacewings and their allies (Neuroptera, Megaloptera, Raphidioptera and Mecoptera. Field Studies 9, 179-269. (Also published separately as an AIDGAP key by Field Studies Council) |