Worcestershire Record No. 16 April 2004 p. 4
RECORDING WORCESTERSHIRE'S BREEDING BIRDS
A NEW PROJECT
Harry Green
In Worcestershire Record No 15 November 2003 we asked the question What should WBRC do about bird records? This article can be viewed on the WBRC website.
Our concern was (still is) that we have very little information on the local distribution of Red and Amber listed Birds of Conservation Concern.
Following responses to the article, a presentation at the Annual Meeting last March, and discussions by the Worcestershire Recorders committee and the WBRC Board a scheme has been set up to collect BREEDING records of selected species. Our main concern was to find a way of handling the records as the WBRC does not currently have the capacity to process large numbers of observations over and above the current workload. This problem has been partially solved by Patrick Taylor and John Tilt who offered to collate records in a voluntary capacity.
An Instructions Sheet and recording forms have been devised and copies are included with this Worcestershire Record. Please photocopy the form if you need more. However we should much prefer not to receive records on paper.
The Recording Form in Excel format is easily available from the WBRC website (a click or two away from the home page!). The ideal would be for you to download the form on to your computer, enter records and email completed form to birdrecords@wbrc.org.uk . It will automatically be forwarded to Patrick Taylor who will collate the results. At intervals these will be downloaded onto the WBRC computer for use. Paper records should be sent to John Tilt (address on the form) who will computerise them and send them along the same route.
We must emphasise that we very much want the records but we don't, in the short term, have the people capacity to enter a large number of paper records onto computer so they may be held for a while before this is done. We would be very pleased to hear from anyone who would like to help with this job!
Full lists of the birds to record are on the Instruction Sheet enclosed and on the web site.
This a BREEDING season survey and of course the 2004 season is well advanced. We expect this survey to continue to run from year to year so 2005 will be the first full year of recording.
The survey gives you the opportunity to record certain common birds and to make the data you collect of use in Worcestershire. You may well like to survey a given tract of countryside for the listed species. We only require one record from a site (roughly spots more than 200 m apart) for each calendar year.
The RED listed species (50% decline) to be recorded are:
Bullfinch
Corn Bunting
Grasshopper Warbler
Linnet
Lesser Spotted Woodpecker
Marsh Tit
Grey Partridge
Reed Bunting
The AMBER listed species (25% decline) to be recorded are:
Barn Owl
Lapwing
Lesser Redpoll
Meadow Pipit
Nightingale
Redshank
Skylark
Spotted Flycatcher
Turtle Dove
Willow Tit
Yellowhammer
Tree Sparrow
The following species are "of interest" but not the prime aims of the survey
Green Woodpecker
Kestrel
Kingfisher
Mistle Thrush
Pochard
Redstart
Stonechat
Stock Dove
Snipe
Tree Pipit
Water Rail
Woodcock
Wood Warbler
Yellow Wagtail
Swallow
Sand Martin
Willow Warbler
The survey also requires noting by code the level of evidence of breeding and of habitat types habitat types.
We hope that many bird watchers will contribute to this survey as a way of making interesting use of their observations of commoner but threatened species.
Reference
GREEN H. 2003 What should WBRC do about bird records? Worcestershire Record. 15:12-13.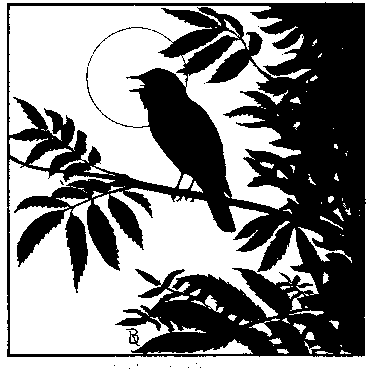 Drawing by Ray Bishop
If you have any nightingale records for 2004 I should very much like to hear from you. The Worcestershire population seems to still be dwindling, but this year five singing males were heard near Mathon – a new location.