CONFIRMATION OF THE IDENTITY OF A NEW MILLIPEDE FOR WORCESTERSHIRE
John Meiklejohn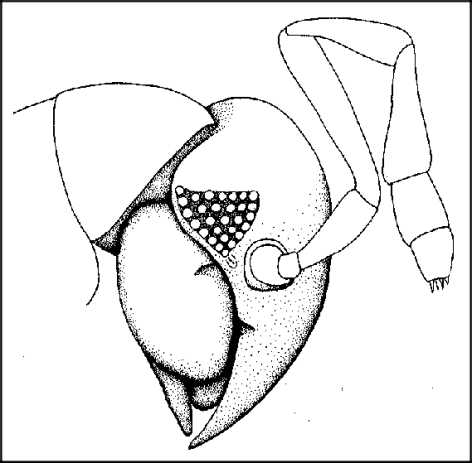 Head of Chordeuma proximum adapted from Blower (1985)
In an article in Worcestershire Record No.8 (April 2000) I described my finding of a millipede that was possibly the first record for it in Worcestershire. The specimen was female and to be certain of its identity an examination of the genitalia of the male of the species is necessary. In September 2001 Harry Green handed me some invertebrates for identification that he had found in Crews Hill Wood, not far from Old Storrridge where the first find was made. Amongst them was a mature male millipede.
I can now confirm that we do have Chordeuma proximum in Worcestershire. I suspect that it might be relatively common in leaf litter in woods in the mid-west of the county.
Length c.ll mm., width c.1.2 mm., dark to mid-brown, very swollen 'cheeks'.
Adults may be found from late September into the winter months.
I would be pleased to receive specimens.
Reference
BLOWER J.G. 1985 Millipedes. Synopses of the British Fauna no.35.
Linnean Society of London.